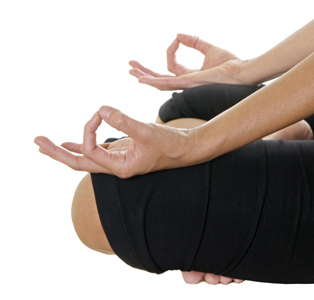 Welcome to Heartspace!
Heartspace is a community-oriented studio that offers yoga, meditation, and healing arts from a range of traditions. Located in the Capital Region of New York, we have studios centrally located near Washington Park in Albany and on Monument Square in downtown Troy. We provide a safe, supportive and tranquil setting with excellent instruction to help improve overall health, reduce stress, and invite a peaceful and calm mind through the practice of yoga and meditation. We offer instruction for all levels from beginners to advanced with daily drop-in yoga and meditation classes, series, prenatal yoga, workshops, special events, yoga teacher training, and several community classes per week, which are offered by donation.
with gratitude,
Andrew and Elizabeth Kasius, Heartspace Owners

Welcome to Heartspace!
Introductory Offer: When you take your first class at Heartspace, your second class is free: 2 Classes for $16. Your second class is good for 30 days after your first class on this pass. Click here to purchase our Introductory Offer. Please email Andrew if you have questions about classes, rates, instructors, or our studios. We'd like to help you find a class that is right for you!
---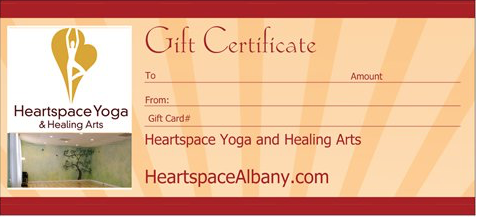 Heartspace Gift Cards can be purchased online and printed, or can be purchased at the studios or call us and we can mail you one right away.
---
Workshops and Special Classes and Events at Heartspace
In addition to our regular scheduled weekly drop-in and community classes, we offer a number of special workshops, series and classes designed to help deepen your practice, knowledge and experience of yoga and your body and mind connection. Please visit our workshop/series page for up-to- date listings. Be sure to make sure which studio, day and time they're held. See some of them listed below.
---
The Dharma of Breathing. Instructor Bridgette Shea, RYT, Lic. Accupuncturist. Saturday March 31, 2-4PM. Join Bridgette for this in-depth look at what constitutes an optimal, healthy breath. Most of us suffer from abnormal breathing patterns that underlie the conscious breathing we usually focus on in yoga class. Second only to meditation, breathing well naturally, without trying, is the best thing we can do to preserve and cultivate good mental, emotional, and physical health. Discover personal breathing imbalances so you can work toward transforming them into a more healthful breathing pattern. Bridgette will discuss what a natural, healthy breath is from the traditions of yoga, Ayurveda, western science, and Chinese medicine at both the subtle energy and physical body levels. Using this information and establishing a few minutes of regular breath awareness can create profound shifts in bodily comfort, mental, emotional, and spiritual well being. $30 to preregister/$35 day of event. More info or register.
---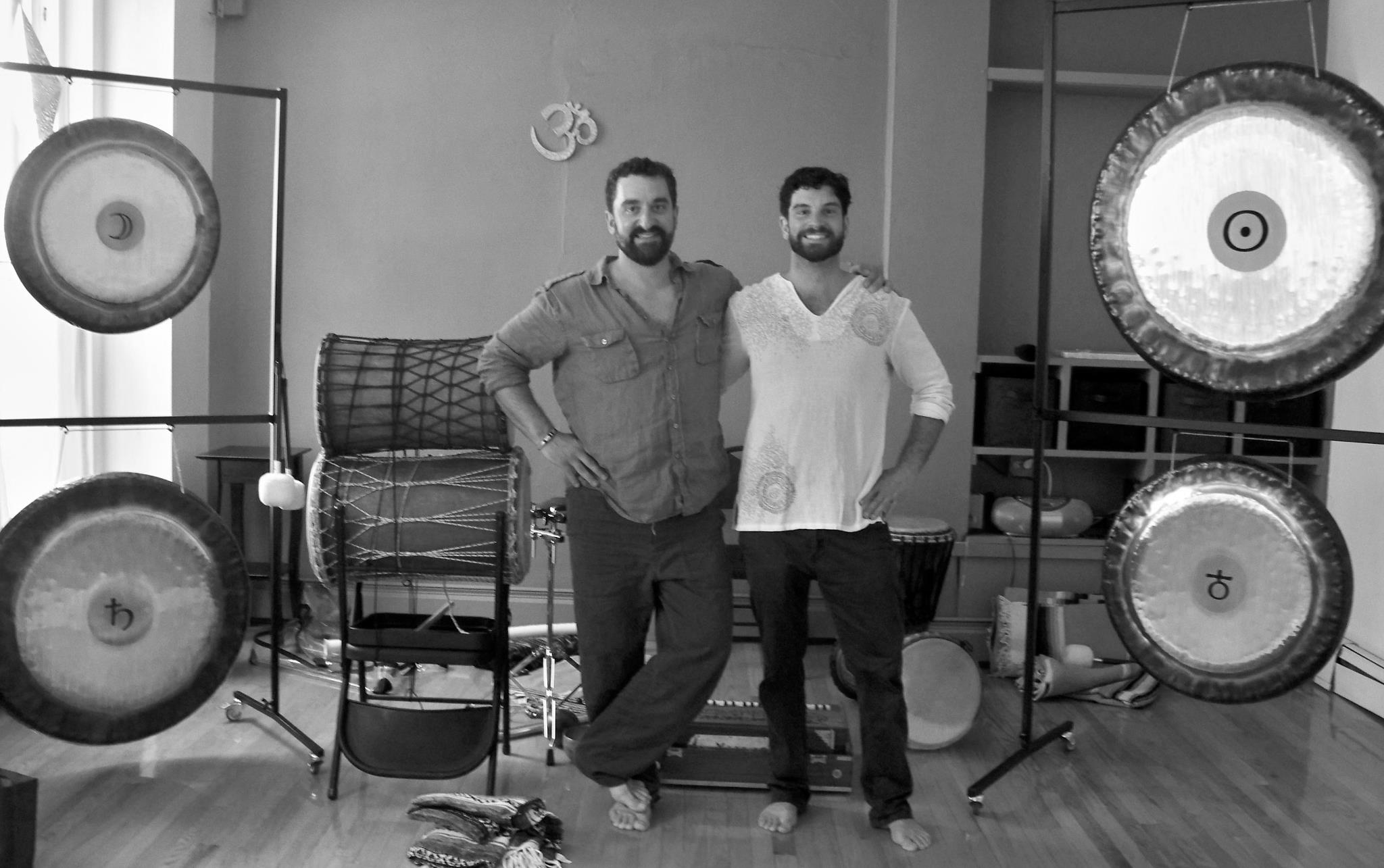 Gong Bath and Chakra Bowls with the Gong Lab. Saturday April 7, 4PM
A Gong Bath is a sonic environment which uses resonant instruments like gongs and singing bowls to promote relaxation and meditation. If you have never been to a Gong Bath before they're a unique sensory experience. You first hear the gongs vibing out, then you feel the vibration throughout your body. Pull up a mat and sit for a while and let the sound wash over you or enjoy movement during the session.
$20 to preregister .
April Acroyoga Workshops with Team Willco, Scott Coley and Cathi Willis.
Acroyoga: Foundations Saturday April 7, 1-3PM. Troy studio.
Acroyoga is a practice of connecting with others through awareness, breath and movement. This allows us to receive support from others and empower them. New skills are demonstrated and students are given opportunities to explore them at their own pace, with the support of the instructors and other students. Find yourself hovering above the ground, floating in a supported inversion and supporting others in flight. You can expect a yoga based warm-up, partner drills, games, and the introduction of acroyoga poses and transitions. Whether you are hearing about acro for the first time, or have some experience already, this workshop is for you! Lift your yoga practice into the air. Come solo or with a partner; either way we'll match you up with others as you move through base, spotting, and flying roles. Cost $20.
Click here for more information or to preregister.
Acroyoga: Next Steps Saturday April 21, 1 - 4PM. Troy Studio. So you've taken some acroyoga classes and moved the furniture out of the way at home to practice… You want more?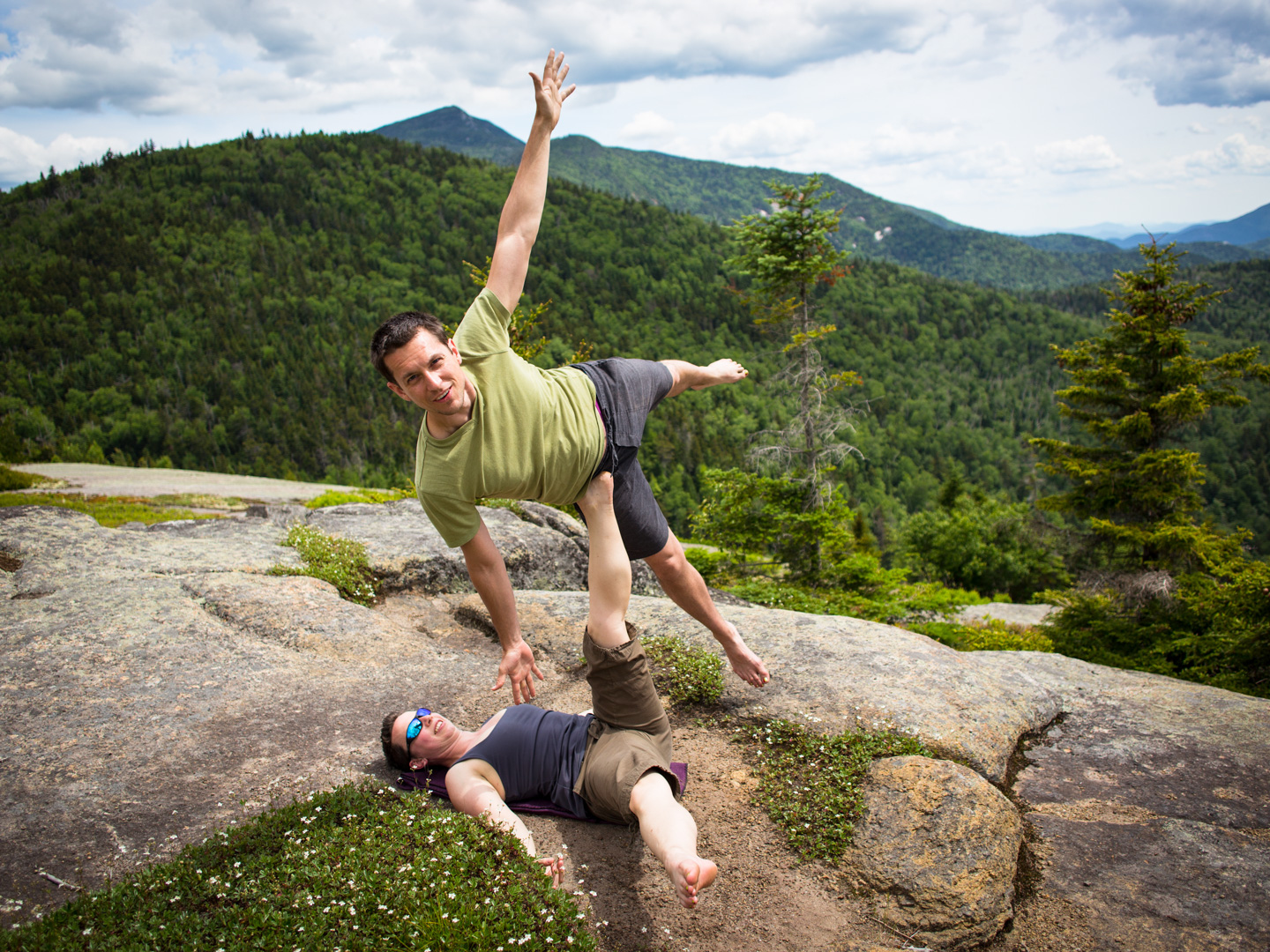 Let's go beyond the fundamental poses, to work transitions and find fluidity in our movements. Cyclical acroyoga sequences are known as washing machines. This workshop will give you the tools to learn two basic washing machines: London Spin (easiest variation) and 4-Step. Participants will leave this workshop with an appreciation of the skills required for both washing machines and specific training tools for gaining those skills and beyond.
As this is an advanced beginner class there are prerequisites. You must be comfortable with the following acroyoga skills as either base or flyer:
Star (we don't care how you get into it...don't sweat the jump), (30 sec hold)
Bird, no hands, (15 sec hold)
Bird, remove alternating feet
You will have a much easier time if you have already practiced the following skills, but they are not required. (We will be reviewing these skills during the workshop.)
Remove a foot in star
Side star
Cost $35. Click here for more information or to preregister.
Master Classes with Lauren Toolin Saturdays 9 - 11AM at our Albany Studio.
These workshops are designed to help you deepen your knowledge and experience of yoga. You don't have to be a yoga instructor or an advanced practitioner, you only need to be really interested and curious about yoga and the healthy functioning of body and mind. Senior instructor Lauren Toolin brings a wealth of knowledge and teaching experience to these classes. Workshops are offered in conjunction with Lauren's 200-Hour Yoga Teacher Training group so space is limited. Coming up
---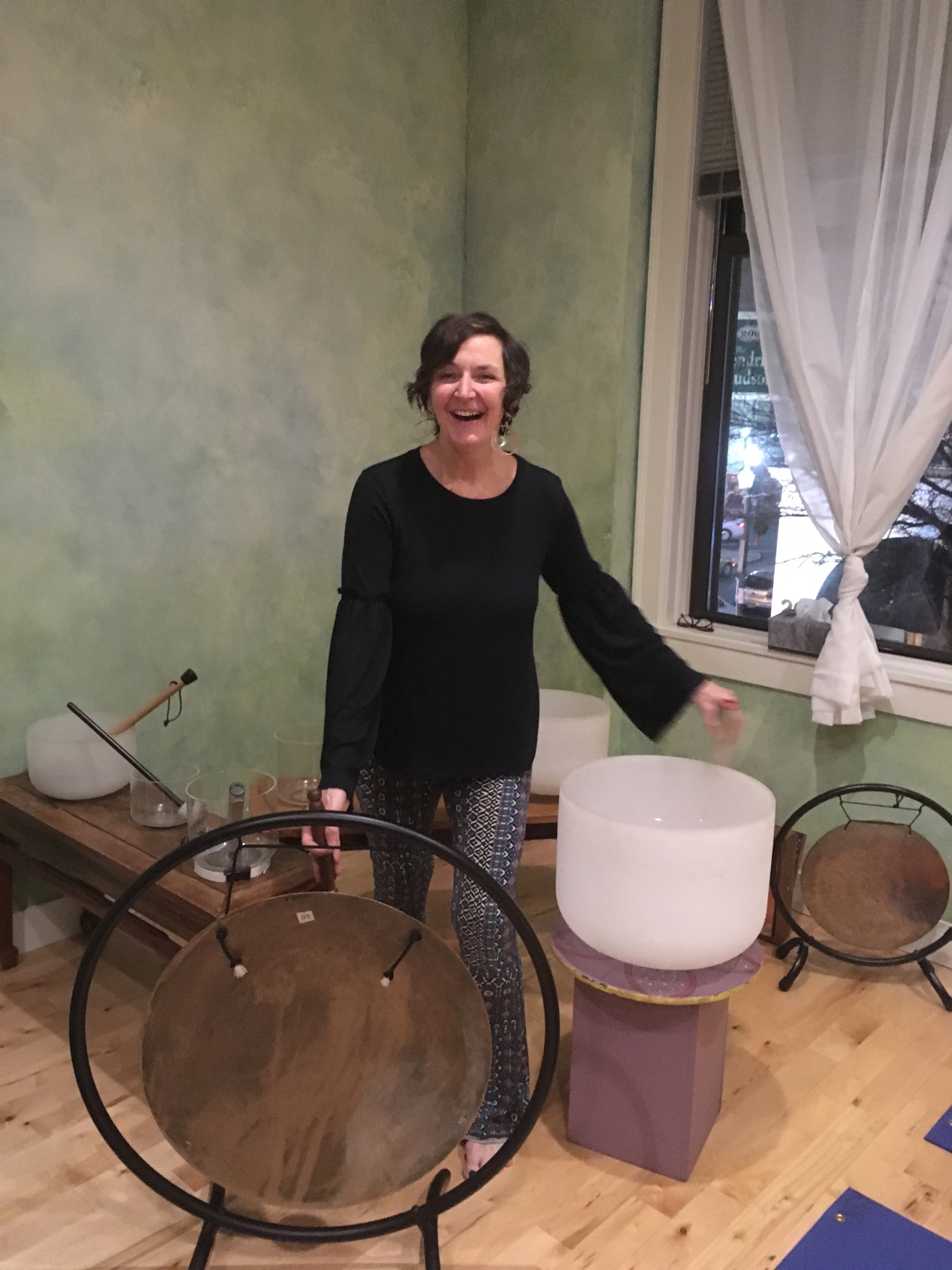 Sound Healing and Chakra Yoga with Instructor Diane Simpson, RYT, LMT. Saturday April 14, 1-3PM. Troy Studio. Join Diane Simpson for a unique sound healing workshop combined with gentle, restorative yoga to balance the Chakras. Students will experience the healing sounds and vibrations of the Chakra Gongs and Bowls while practicing poses , pranayama and mudras designed for each Chakra. Very gentle and open to beginners. If you are a fan of the Gong Lab this workshop will take you to the places of deep healing experienced during Gong Baths.
Nourishing Yoga for Athletes and Others: Hamstrings! Saturday April 14, 2-4PM. Instructor Samara Anderson. Albany Studio. Whether you're a runner, biker, athlete or anyone who would like to reclaim movement, comfort and function in your body, please join us for this series of monthly workshops with Samara Anderson. Each session will work towards a specific therapeutic goal for the body.
Warm the body with a series of flowing movements and postures, and then settle and soothe with longer-held yin yoga to lengthen and restore. Be prepared to learn about the function and form of specific regions of your body and how to nourish and support them with movement and intention. Cost $25.
2018 Schedule Yoga for Athletes and Others:
May 12 - Glutes / Periformis
June 9 - Inner Hips / Adducters
July 21 - Outer Hips / Abducters
August 11 - Low Back / Spine
September 8 - Quadratus Lumborum / Glute Med
October 13 - Core / Obliques
November 10 - Shoulder Complex / Upper Back
December 8 - Overall Body Destress
---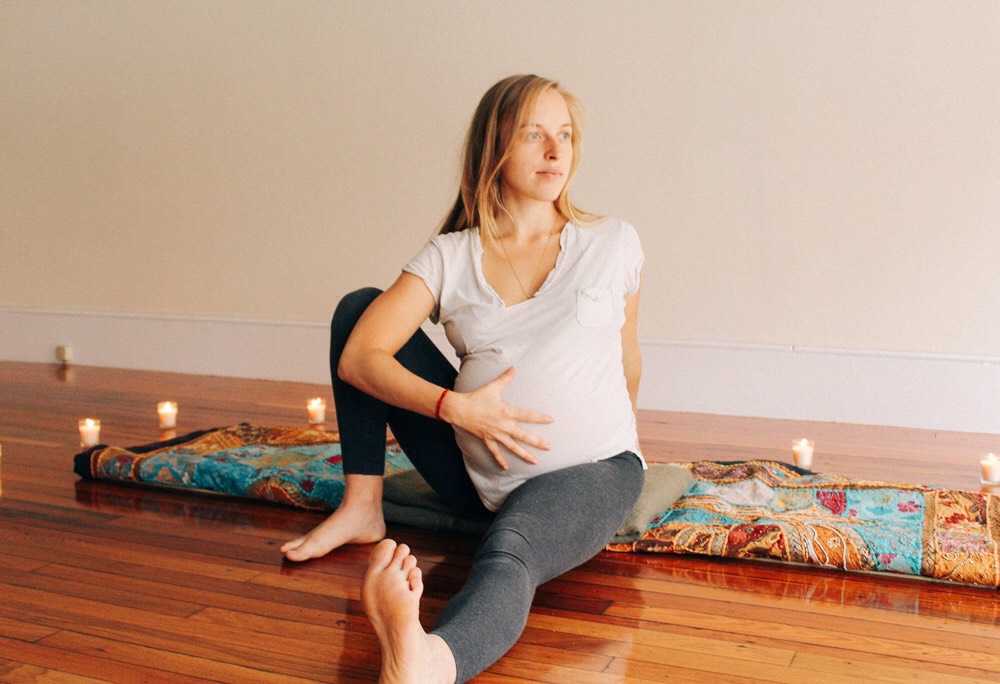 Prenatal Yoga - Four Week Series. Sundays, April 15 - May 6, 2018. 12PM - 1:15PM. Instructor Rosy Mulligan, RYT and Birth Doula. Albany Studio. This class takes a gentle approach to supporting your connection to your breath and revitalize your energy as you prepare your mind and body for birth. Take time to connect both with your baby and a community of expectant mothers. $80 for the series.
---
Prenatal Partner Yoga and Massage Workshop, Sundays 12-2PM, Albany Studio. Instructor Rosy Mulligan. Yoga is an excellent way to prepare the mind, body and spirit for the many transitions of pregnancy, childbirth and parenthood. In
this fun and hands-on workshop, partners will be building their tool kit for supporting their partner during the birthing journey. Partners will learn techniques for breath awareness, partner poses, acupressure and massage, which can help strengthen and relax the laboring woman's body during pregnancy and labor. Cost $50/couple. April 8, 12-2PM
---
Yoga for Brand New Beginners: Four Week Introductory Series. Instructor Rebecca Volpe. Saturdays April 21 - May 12, 11:45AM - 1PM. Albany Studio. If you are new to yoga, returning to it, or have some experience and want to get grounded in the fundamentals and foundations of yoga, please join us for this four-week series.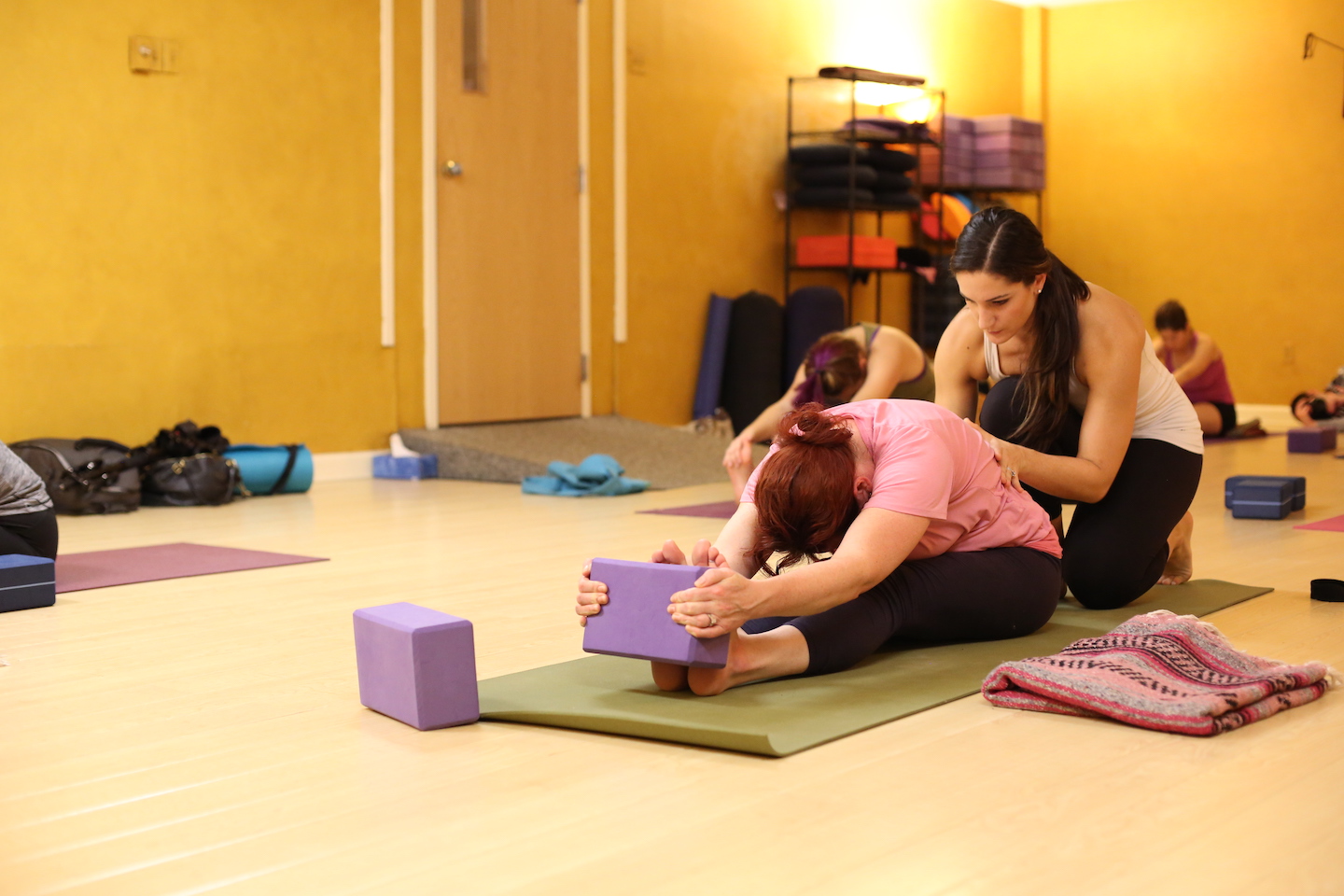 We will introduce key foundational concepts regarding the practice of yoga including postures (asana), breathing (pranayama), and meditation. This series will present you with background on yoga, principles of alignment for fundamental standing, seated, and balancing postures, improving spinal mobility, proper yogic breathing, and how yoga can help you to live a fuller and healthier life. No experience required; just an open mind. Price: $60 for the series. Note: This will be our final Brand New Beginners series until Fall 2018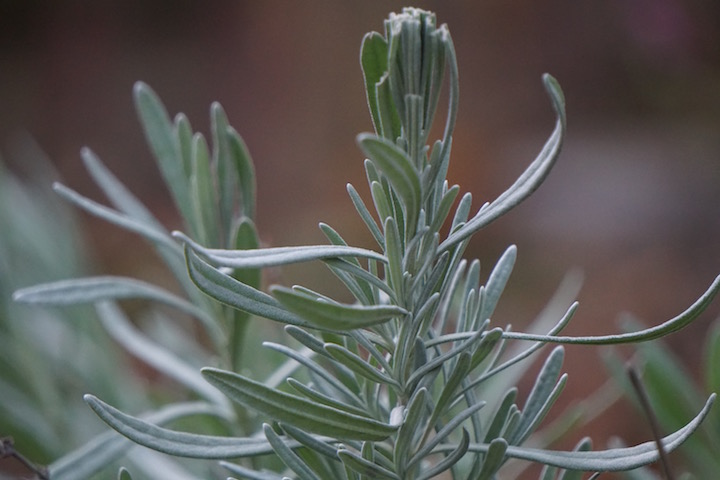 Yin Yoga and Energy Meridian Workshop with Diane Simpson and Cat Lynch Capowski. Saturday May 5, 2-4PM. Troy Studio.
Join us for an exploratory workshop of Yin Yoga and energy meridians in which we replenish, revive, balance and restore on a physical and emotional level, in time with the seasonal shifts around us. Experience deep relaxation and get to know your inner emotional landscape in this calming and grounding mind-body workshop. This workshop will focus on the seasonal spring meridians in Chinese medicine of Liver and Gall Bladder. Yin yoga is a practice of long-held, deeply relaxing "stretching" poses that open and energize the meridians, or energy pathways of the body, restoring joint mobility as you quietly activate and gather your chi, your prana - your life force. The Yin asanas are combined with deep, focused breathing to encourage you to tune in and listen to your body as poses are held between three to five minutes to help liberate the body's chronic holding patterns and relieve pain. Each participant will receive bodywork/acupressure on meridians during poses. Students will be guided in some gentle partner work.
Cost: $40. Click here for more info or to preregister.
Log in or Set Up an Account? Click here.