New to Heartspace? Welcome! When you take your first class at Heartspace, your second class is free: 2 Classes for $16. Your second class is good for 30 days after your first class on this pass. Click here to purchase our Introductory Offer. Please email us if you have questions about classes, rates, instructors, or our studios. We'd like to help you find a class that is right for you!
---
Master Classes with Lauren Toolin this Fall and Winter. Saturdays in Albany from 9-11AM. Go deep and explore and expand your practice. Twelve spots open per session as this is offered concurrent with Yoga Teacher Training. $25 per class. Click here to register for upcoming dates:
Sun Dec 13 - It's Prop-Tastic!

Sat Jan 23, 2016 - Maha Mudra - the Ultimate Hatha Yoga Practice
​
---
Thanksgiving Day Community Classes. 9AM in Albany led by Emilia and 9:30AM in Troy. Keeping with our tradition, we will be offering classes on Thanksgiving morning by donation. See our online schedule to sign up. Funds will be donated to support Jajjas Kids, a Ugandan home for orphaned boys and to support arts projects for children at Schuyler Inn, a transitional homeless shelter in Menands.
---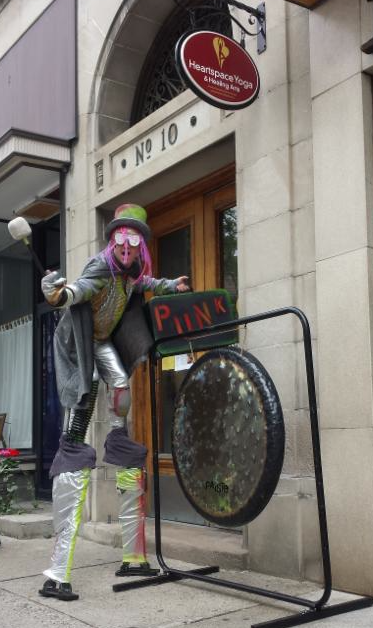 Gong Bath in Troy. Saturday December 5, 4- 5:15pm. Restore and renew and you let the sounds and resonance of the gongs envelop you. Practice asana, meditate, lay down and rest, sleep, whatever makes sense during the time. No experience required. Led by Jim and Nick Pavoldi of the Gong Lab and Diane Simpson offering chakra bowl vibrations. $15 to preregister.
---
Jivayate: A Restorative Practice for Stressful Times. Instructor Lauren Toolin. Sunday December 6 1- 3:30PM. Albany Studio. Got stress? In Sanskrit, Jivayate means 'to restore to life'. In this time of seasonal change and hustle and bustle, give yourself the gift of a restorative yoga practice and learn practical techniques, based on Yoga and Ayurveda, to bring more balance and renewal to your winter days. Cost. $35 to preregister by November 20th. $40 after that date.
---
Yoga Girls Club, Mondays 4-5PM. Instructor Jai Hackett. Our next Six Week Session for Yoga Girls Club begins Monday January 11, 2016. For tween girls, approximately 8-12 years old. Cost $60. Click here to register.
---
New Classes and New Times
New time: John Smrtic's Wednesday night Jivamukti class in Albany will shift to 6:45 - 8:15pm beginning November 18.

New Wednesday 6:45AM class in Troy. Yoga and Meditation with Lacey Cukier. Begins November 11.
---
Coming up in January 2016
The Dharma of Breathing. Sunday January 31, 2-3:30pm. Troy Studio. Instructor Bridgette Shea. Click here for more information or to preregister. $30 to preregister/$35 day of drop in.
---
Early Morning Yoga at Heartspace Unlimited for only $50/month. Do you like to practice yoga in the mornings? Start your day off right and come join us at either Troy or Albany for our 6:45 - 7:45AM classes during the week. In Albany, we offer classes Monday, Tuesday (Pilates), Thursday and Friday and in Troy we have classes Tuesday, Wednesday and Thursday. Click here to purchase your one month morning unlimited pass for $50. No multi-month commitment!