Sva Sadhana: Advanced Practice – Embodied Wisdom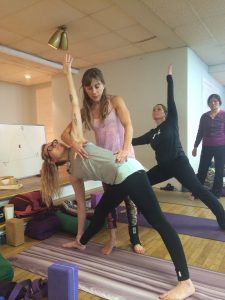 Sva Sadhana: Advanced Study on Personal Practice and the Four Desires ParaYoga Master Training.  May 18-19, June 21-23 plus webinars.   Albany Studio.
In this practice based advanced studies course, you will:
Immerse yourself in a living tradition of wellness and spiritual fulfillment;
Refine and deepen your personal yoga practice with individual guidance and mentoring;
Study and live the lessons of seminal yoga texts and teachings;
Explore advanced hatha yoga practices,, pranayama, and meditation
Develop strategies for ensuring emotional and physical health and resiliency
Lauren Toolin is one of the very few Yoga Therapists in the region and was one of the first to be certified to lead students in the Four Desires process by its founder.  She has been guiding people in this life changing process for more than a decade.  Visit Lauren's site for registration details and costs.